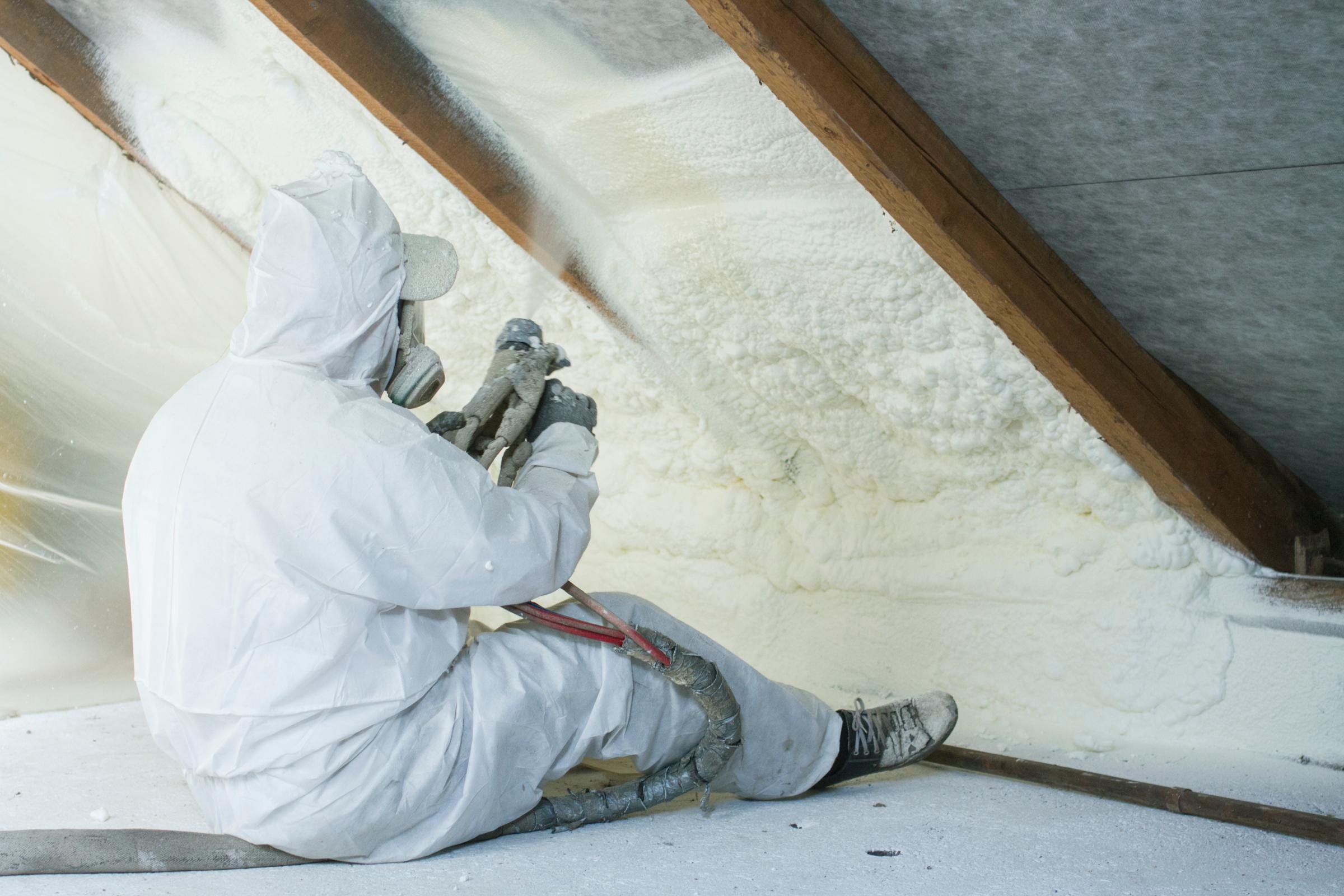 Upgrade your home comfort—and save money too!
Greencat has the best spray foam insulation near you!
Upgrading the insulation in your Los Angeles or California home can help you stay more comfortable and keep your energy bills low. Out of all the different insulation materials available, spray foam offers a number of advantages that make it a popular choice for Califonia homeowners. Greencat is the leading local spray foam insulation contractor throughout California, including Los Angeles, Orange, Western Riverside, and Western San Bernardino Counties—upgrade your home the right way with our team of whole-home experts.
What Is Spray Foam Insulation?
Spray foam insulation, or spray polyurethane foam (SPF) is an insulation material created by combining isocyanate and polyol resin. Spray foam is installed via a "spray" application, and when the two components are combined, they react and expand in size as the spray foam hardens and cures. 
The Benefits of Spray Foam Insulation
High R-value compared to other insulation types

Combined insulating & air sealing qualities

Water and moisture-resistant options available

Easier to insulate hard-to-reach areas of your home

Can last as long as 80+ years
Many insulation types are weakened if exposed to moving air, which is why air sealing is just as important as insulation when upgrading a home. But spray foam acts as both an insulating material and an air sealant, protecting the inside of your home from thermal heat transfer as well as air leaks.
Closed cell spray foam insulation is also water resistant, protecting you against moisture and leaks which can lead to water damage and mold growth. And all spray foam, because it expands as it's applied, creates an air-tight layer of protection for your home, something that can be difficult to achieve with other types of insulation in corners and hard-to-reach areas.
Better Home Comfort, Increased Energy Efficiency
You'll notice the difference when you upgrade your California house with spray home insulation in two major ways:
1. A More Comfortable Home
Insulation and air sealing help keep heat inside your home when it's cold out, but they're also effective in keeping heat out during the summer so that you can stay cooler inside. Properly insulated homes have fewer indoor drafts, more even temperatures throughout the house, and don't swing from one temperature extreme to the other as easily over the course of the day.
2. Lower AC & Heating Costs
Spray foam insulation increases the energy efficiency of your home, which means that you'll need to run your heating and cooling systems less to stay comfortable. If you hate dealing with high electricity bills in the summer because your AC is running so often, insulation will help, saving you money for years to come while keeping you comfortable in your California home.
Schedule a Home Energy Assessment Today to See if Your California Home Could Benefit from Spray Foam Insulation
How do you know if your home could use upgraded insulation? Schedule an energy assessment for your house with the whole-home experts at Greencat. Using our building science training and expertise, along with advanced equipment like blower doors and infrared cameras, we'll inspect your home, measuring how much heat loss it is currently experiencing and determining where an upgrade would be most effective.
Using the results of our assessment, we'll sit down with you to explain what recommended services will address the specific issues you're experiencing in your home (like high energy bills or indoor drafts), as well as spray foam insulation costs and more.
Save money and make your California home more comfortable. Call 323-208-9071 or

contact us
today for a spray foam insulation quote from the whole-home experts at Greencat.
What Our Customers Are Saying About Greencat