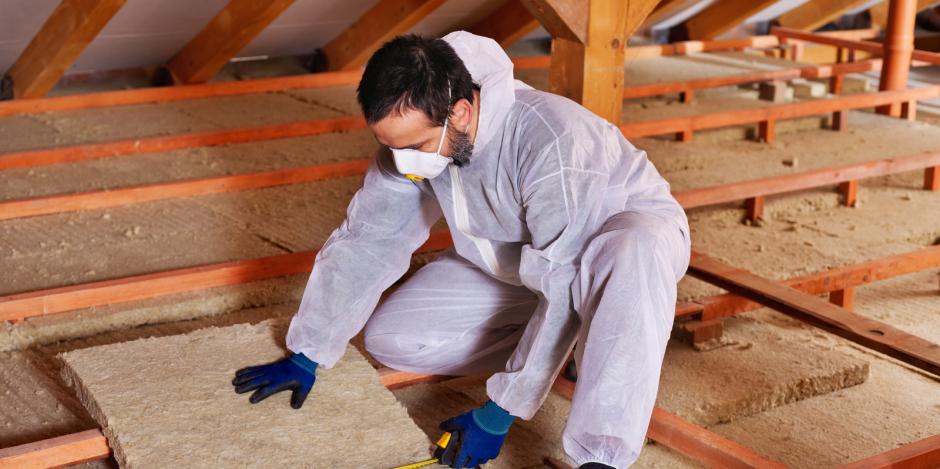 Is your old attic insulation no good?
Find out from the insulation pros at Greencat.
Looking to improve your home comfort and energy efficiency? Upgrading your attic insulation is a great place to start, and one of the best ways to make the biggest difference in your California home.
But to be effective, attic insulation replacement jobs have to be done correctly, and that often starts with removing the old insulation in your attic and cleaning the space out so that it's ready for new insulation and air sealing to be properly installed. Greencat professionally removes old insulation safely and effectively in homes throughout all of California, including Los Angeles, Orange, Western Riverside, and Western San Bernardino Counties as part of our insulation upgrade services.
Why Would Attic Insulation Need to Be Removed?
Ruined by water or moisture

Growing mold

Destroyed by pests or rodents

Compressed or damaged

Old and no longer effective
There are many reasons why your home's current insulation may need to be professionally removed and replaced. If your insulation has been exposed to moisture or stepped on and compressed, it will no longer perform effectively in slowing heat moving in and out of your home. Insulation can also become moldy or covered in animal waste, which can create indoor air quality problems and a less healthy home. Contaminated insulation can pose health risks, which is why it's not a good idea to remove the insulation yourself.
Finally, insulation can simply lose its R-value (how well it insulates your home) over time as it ages. Depending on the type of insulation you have (like fiberglass batts, cellulose, spray foam insulation, or some combination), your insulation might last anywhere from several decades to 100 years under perfect conditions. Unfortunately, however, the average house has far from perfect conditions, and insulation often needs to be replaced or upgraded much sooner.
Can New Insulation Just Be Added on Top of Old Insulation?
This is a question we get often from homeowners who are looking to save money on home improvement work. In some cases, if there is nothing wrong with your current attic insulation, and it's just not installed properly or there isn't enough of it, then yes, new insulation can be added on top of the old insulation. But if your insulation has been exposed to moisture, animal waste, or mold, then it's ruined and needs to be professionally removed and replaced.
Insulation upgrades are also a great time to perform air sealing to close up tiny cracks and gaps in your home that are letting air in and out. But it's difficult to air seal properly without completely removing the existing insulation to see where air leaks are—another reason why it can be best to start from scratch with new, high-performing insulation materials.
Signs You Need Your Attic Insulation Removed and Replaced
So, how can you tell if the insulation in your attic needs to be removed? While the way to be absolutely sure is to have your home inspected by an insulation specialist, here are a few signs that you could benefit from removing and replacing your attic insulation:
Rising energy bills

Uneven indoor comfort levels (some rooms worse than others)

Evidence of rodent or pest infestation

Roof leaks or other signs of moisture intrusion 
Still not sure if your insulation is bad or not? An energy assessment with Greencat can give you the best look at your home performance. An energy assessment, sometimes called an energy audit by other insulation companies, is a comprehensive evaluation of your home. Using blower door testing and infrared cameras, we can measure how well your insulation is currently performing and identify particularly weak areas for improvement, like your attic or your exterior walls.
Upgrade the Insulation in Your Home the Right Way With Greencat
It's important to find the right insulation contractor for your California home, so you can be sure that the work is being done correctly for long-lasting comfort and energy efficiency in your house. Since 2008, Greencat has completed over 20,000 projects throughout the state, helping thousands and thousands of homeowners stay more comfortable in healthier homes. 
Let California's insulation professionals handle your insulation upgrades. Call 323-208-9071 or

contact us
today for a free attic insulation removal quote.
What Our Customers Are Saying About Greencat