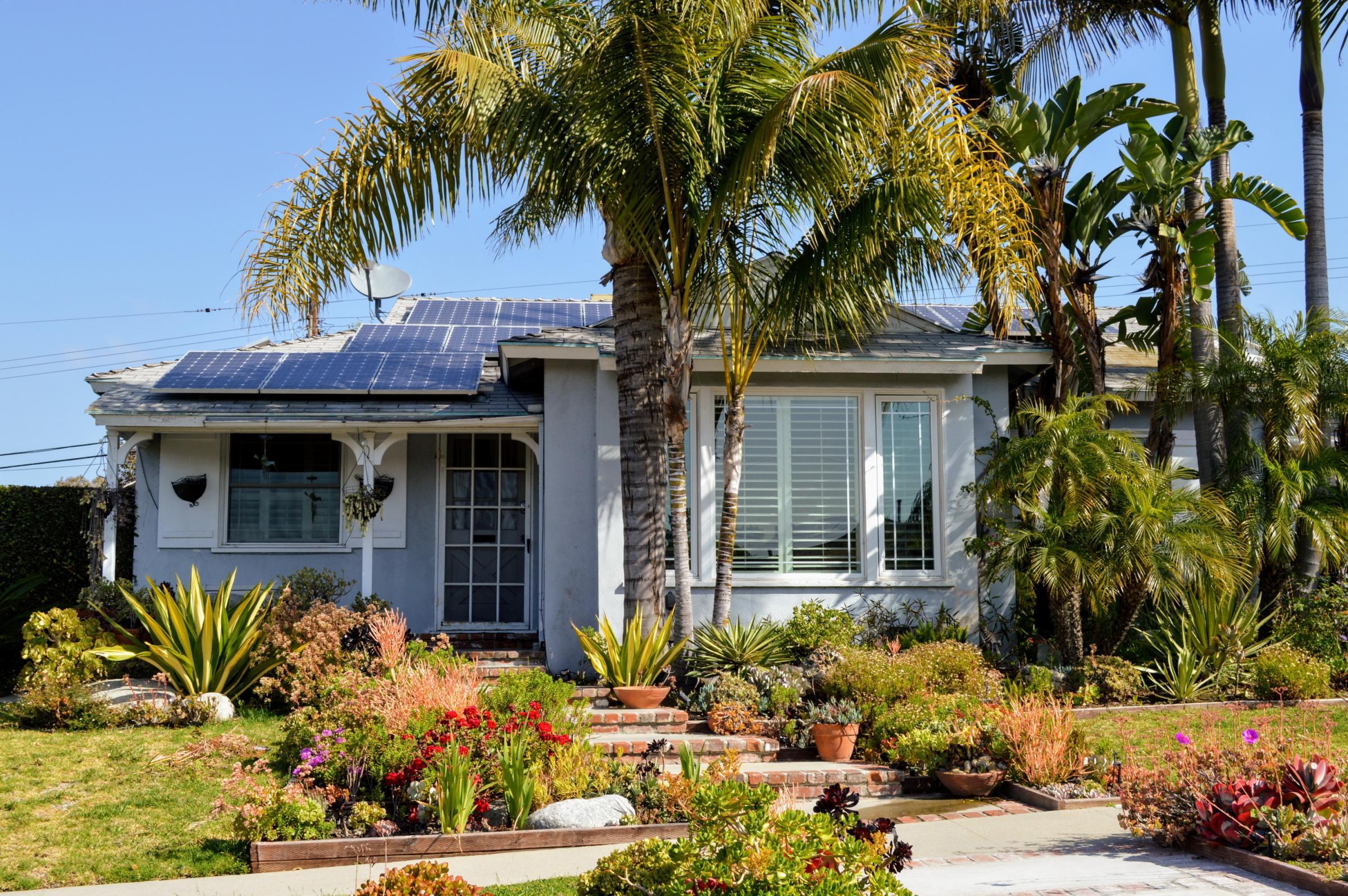 Take the first step toward energy independence!
Schedule a solar consultation today. 
When it comes to going solar in California, the question is not if, but when. The state of California is on a mission to electrify its energy production, and that starts with encouraging—and eventually requiring—every homeowner to power their homes with renewable resources, rather than rely on fossil fuels like coal, oil, and natural gas. 
Whether you're planning ahead or ready to make the switch to solar today, Greencat is here to help. As a whole-home performance contractor, we understand the intricacies involved in solar panel installation and can provide honest, reliable guidance as you navigate the process. But perhaps more importantly, we know what the electrification requirements are for building and remodeling a California home, because we are California homeowners ourselves. Our team can provide valuable insight and recommendations based on your home, budget, and local requirements to ensure you get the most out of your investment in solar panels. 
Benefits of Going Solar in California
California has long been at the forefront of renewable energy in the United States and continues to create legislation that helps accomplish its energy efficiency goals. In recent years, many California cities have made solar integration a requirement for all new home construction and are no longer allowing natural gas lines to be attached to new homes. Because of these and other measures put in place by the state, going solar is an inevitability for California homeowners. But that isn't the only reason why you should invest in a solar panel installation sooner rather than later. With solar panels in place, you'll enjoy many benefits, including: 
Decreased and potentially eliminated energy bills 

Less reliance on utility companies for energy 

Reduce your carbon footprint

Help combat the effects of climate change 

Qualify for tax breaks and other incentives
For many California homeowners in Los Angeles, Orange, Western Riverside and Western San Bernardino Counties, going solar comes with another big benefit: lower utility costs for electric vehicle charging. EV ownership is steadily increasing as drivers throughout the state are looking for cleaner and less expensive methods of transportation, but charging one or more electric cars or trucks is likely to make a noticeable difference in electricity bills. With solar panels for your home, you can reduce that impact and feel better about your grid electricity consumption.
Tax Incentives Can Help You Save on Solar Panels 
Having solar panels installed is an investment, and paying for the entire installation cost upfront isn't feasible for many homeowners. To make solar energy more accessible, California offers some of the best tax incentives and rebates in the country, including the Single-Family Affordable Solar Homes program, which provides qualified low-income homeowners with incentives to help offset the cost of a solar panel installation. California homeowners are also eligible for the Federal Solar Tax Credit (ITC) which can help you save significantly on solar installation costs. 
When you turn to the Greencat team for a solar energy project, we'll talk to you about the different incentives available, identify the programs you qualify for, and walk you through the process of applying so that you can save as much as possible on your solar panel installation.
Your Trusted Partner For California Solar Panel Installation    
Greencat isn't just another solar installer. We care deeply about our customers and take a personalized approach to solar panel installation. Our team will work with you to design a solar panel system that meets your needs and will help you save the most on energy costs. We'll also make sure your project complies with state and local legislation, and help you qualify for tax credits and rebates to make your solar panel installation as affordable as possible. 
Make this the year you go solar! Call 323-208-9071 or contact us here to schedule a consultation. 
What Our Customers Are Saying About Greencat